Grenadilla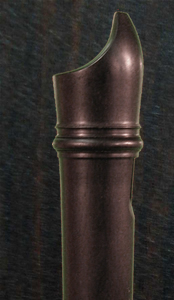 This, the strongest of all woods used in my workshop, is primarily known as the material used for classical wood wind instruments: clarinets and oboes are usually made from grenadilla. Grenadilla is often mistaken for ebony as it is almost entirely black and heavier than water. It is, however, denser and stronger than ebony and a little more flexible at the same time. Botanically related to Rosewood, grenadilla is not South American, as most rosewood types are, but is at home on the African steppe.
On account of its highly resinous quality grenadilla is resilient to dampness and does not tend to warp. Its dense, tough surface often creates a highly distinct, strong sometimes even a little harsh sound in grenadilla instruments. It is a superb material for instruments of the late Baroque period which were meant to be played with virtuosity. Its dominance would also indicate that it would be highly appropriate for avant-garde interpretations.
Its dense, resinous surface and its specific weight require that the instrument is allowed plenty of time to warm up, in particular in cold rooms, to avoid condensation in the wind tunnel. Otherwise grenadilla requires little care.
New procection regulations from 2017
The Washington agreement for species protection CITES gives Grenadilla a severe protection.
So I will no longer be able to export instruments from Grenadilla in countrios outside of the EU.
Further information can be found here